Maine Voters Reject "Green" High-Voltage Transmission Line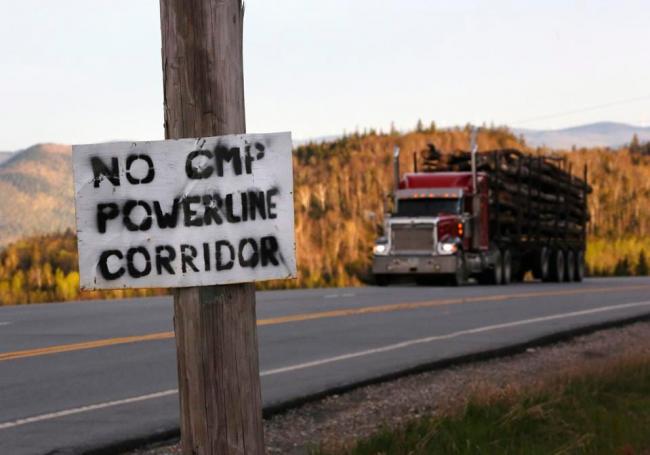 Nov 5, 2021
News coverage of Tuesday's elections was dominated by Glenn Youngkin's victory over incumbent Democrat Terry McAuliffe in the Virginia gubernatorial race. But when it comes to energy policy and climate action, the lopsided result of a referendum in Maine over a high-voltage transmission project proved yet again that land-use conflicts are the binding constraint on the expansion of renewables in the United States. The rejection of the 145-mile, $1 billion project also showed that the myriad claims being made by politicians and climate activists that we can run our economy solely on renewables are little more than wishful thinking.  
On Tuesday, Mainers voted – by a margin of 59% to 41% — to reject the New England Clean Energy Connect project which aims to move Canadian hydropower to customers in Massachusetts. The referendum was a stinging rebuke for the builders of the project. But it's not yet clear if the vote will kill the line. On Wednesday, Avangrid Inc., the parent company of Central Maine Power and NECEC Transmission LLC, filed a lawsuit in Maine state court challenging the referendum, alleging it violates "both state and federal law." Avangrid is a subsidiary of the Spanish utility Iberdrola.
While the outcome of the legal battle is uncertain, there is no doubt that high-voltage transmission projects like the one in Maine are deeply unpopular all across the country. As the Portland Press Herald put it, the battle over the NECEC has been "one of the most divisive and expensive environmental battles in Maine history."
Furthermore, the rejection of the project by Maine voters shows that the all-renewable scenarios that have been published over the past few years by academics from elite universities like Princeton, Stanford, and Cal-Berkeley – all of which depend on massive buildouts of high-voltage transmission capacity – are simply not feasible. The best wind, solar, and hydropower resources are in rural areas where electricity use is low. Moving power from those remote sites to cities requires long transmission lines. The more renewable-energy capacity gets added to the grid, the more transmission capacity must be built. And the more transmission lines get built, the more rural Americans will stand opposed. 
As I noted in a report I wrote earlier this year for the Center of the American Experiment, converting the domestic electric grid to run primarily on renewables will require mind-boggling amounts of new transmission capacity. In 2012, the National Renewable Energy Laboratory estimated that if the U.S. were to attempt to derive 90% of its electricity from renewable sources, it would have to roughly double its high-voltage transmission capacity. The US now has about 240,000 miles of high-voltage transmission lines.
Put another way, to convert the electric grid to 90% renewables would require enough high-voltage transmission to circle the Earth about 10 times. That's a lot of wire. Furthermore, attempting to build that much transmission would be staggeringly expensive. The cost of the NECEC in Maine is about $6.5 million per mile. Even if we assume a lower number, say $4 million per mile, building the 240,000 miles of high-voltage transmission that NREL suggests will be needed will cost roughly $1 trillion. 
But the cost figures are irrelevant if the states won't allow new transmission to be built. And recent history shows that states all across the country are rejecting big interstate transmission projects. 
Indeed, Tuesday's rejection of the transmission project by Maine voters marks the second time that utilities in Massachusetts have been defeated in trying to get hydropower from Canada to their customers. In 2018, New Hampshire regulators rejected a high-voltage electricity transmission project called Northern Pass Transmission that was to carry power from Quebec hydroelectric facilities to Massachusetts. The 192-mile, $1.6 billion project – which was to go through New Hampshire's White Mountains – was vetoed in a unanimous vote by the New Hampshire Site Evaluation Committee.
In 2017, Iowa enacted a law prohibiting the use of eminent domain for transmission lines. The move doomed the Rock Island Clean Line, a 500-mile, $2 billion, high-voltage direct-current transmission line that was going to carry electricity from Iowa to Illinois. The opposition forced the project's developer, Houston-based Clean Line Energy Partners, to withdraw its application for the project in Iowa. 
In 2018, Clean Line Energy Partners also announced it was suspending its years-long effort to build a 720-mile, $2.5 billion transmission line across the state of Arkansas. The Plains & Eastern Clean Line aimed to carry wind energy from Oklahoma to customers in the southern and southeastern US. But the project faced fierce opposition in Arkansas where the state's entire Congressional delegation opposed the deal.
A similar high-voltage project, the $2.3 billion, 780-mile Grain Belt Express, has been delayed for years by opposition from rural residents in Missouri. First proposed in 2010, the 4,000-megawatt project is designed to move electricity from Kansas to Indiana and other states. But in 2015, the Missouri Public Service Commission blocked the project after concluding the cost to the state's landowners exceeded its benefits. That project still hasn't been built. 
The punchline here is obvious. Tuesday's vote in Maine, along with the opposition to similar transmission projects in Iowa, Missouri, Arkansas, and other places, shows that building huge amounts of new high-voltage transmission won't happen because rural Americans don't want dozens of 120-foot-high pylons in their neighborhoods. Put another way, due to land-use conflicts, the electric grid of tomorrow will likely look a lot like the grid we have today.
Follow me on Twitter or LinkedIn. Check out my website or some of my other work here. 
Robert Bryce is an author, journalist, filmmaker, and the host of the Power Hungry Podcast. He has been writing about energy, power, innovation, and politics for more than three decades. Bryce has authored six books in which he has covered Enron's bankruptcy, corn ethanol, digital drilling rigs, renewables, batteries, nuclear energy, and the future of the electric grid. His latest book, A Question of Power: Electricity and the Wealth of Nations, was published in 2020. His articles have appeared in numerous publications including the Wall Street Journal, New York Times, New York Post, and Sydney Morning Herald. His feature-length documentary, Juice: How Electricity Explains the World, is available on iTunes, Amazon Prime, and myriad other streaming services. He lives in Austin, Texas, with his wife, Lorin, who is an art teacher, photographer, and master potter.  
Follow Bryce on Twitter: @pwrhungry.
[Top photo: A homemade sign posted on a telephone pole in protest of Central Maine Power's controversial ... [+] ASSOCIATED PRESS]