NDP fallout over B.C. government actions harms federal election chances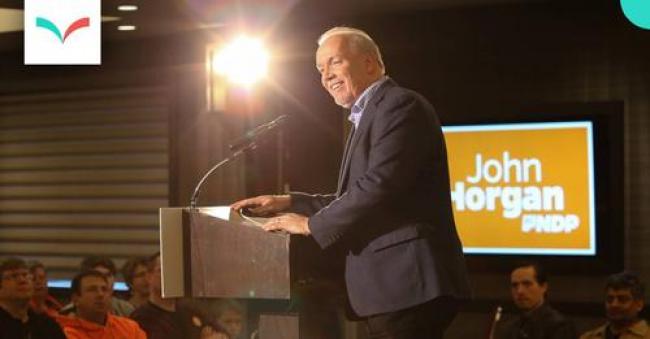 Dec. 23, 2021
RCMP raids at Wet'suwet'en and Fairy Creek, and the silence of the federal party, are resurfacing old divisions among Canada's New Democrats
Frustration is mounting among left-wing members of Canada's New Democratic Party, who feel the party has lost its way.
In recent weeks members have publicly quit, others have circulated petitions and some have shared stories of what they perceive to be dirty tricks from a party leadership determined to ostracize them.
While some of these tensions are longstanding, the trigger for this latest confrontation between grassroots activists and members of the party establishment appears to have been the B.C. NDP government's decision to send heavily armed RCMP officers to arrest Wet'suwet'en land defenders in November. Coming on the heels of the province's failure to adequately protect old-growth forests at Fairy Creek and elsewhere, and the federal NDP's ongoing silence on these issues, some long-time members are wondering if the party truly shares their values.
"What I would say to members of the NDP who want the party to be more progressive is don't just say it on Twitter. You have to organize around these ideas."
Neither the federal NDP nor the B.C. NDP responded to requests for interviews.
Longtime party member and activist Joe Roberts sits on the executive of the provincial NDP in P.E.I. He thinks that people sharing their concerns on social media are pushing for change in the best way they know how, and their frustration and upset are real.
"I think what they're doing is drawing out critical questions for the party to ask itself: What is the future of the democratic process within the party? Who makes the decisions? Do we have forums for meaningful conversations? Are we allowing members to bring ideas forward? Or are we orchestrating our policy conferences and conventions in such a way that the outcomes are predetermined?"
Avi Lewis, an NDP member who ran for the party in the last federal election in the West Vancouver–Sunshine Coast–Sea to Sky Country riding, tweeted earlier this month: "Our party has not had an open debate about our government's embrace of oil and gas expansion. We need one desperately. Until we have one, I cannot ignore the smell of gas in our burning house."
Inner conflict
Yvonne Hanson, an NDP member and self-described ecosocialist, ran in the riding of Vancouver Granville in the last federal election.
"My biggest regret about the federal NDP is that they refuse to distance themselves from the B.C. NDP and the Alberta NDP," she told Ricochet. "And I think that those two provincial parties are really, really, really damaging the reputation of the federal NDP because their policies are so skewed from what leftist parties should be representing."
"I don't think anyone who voted for the B.C. NDP was expecting them to enable the RCMP to drag Indigenous land defenders off their land in handcuffs and make ways for horrifying future-destroying corporations to come in and extract natural resources. At least no party members I've talked to are super keen on that either. I think it is a very stark example of how the B.C. NDP has been sold out at the top," she said.
After the RCMP arrested Indigenous land defenders and journalists on Wet'suwet'en territory in November, the federal NDP issued a statement of concern about "militarized RCMP actions" and emphasized the need for adherence to the United Nations Declaration on the Rights of Indigenous Peoples.
A petition in support of the statement has been signed by sitting NDP MPs Lori Idlout, Matthew Green and Leah Gazan as well as over 1,400 NDP members, more than 30 riding associations, and 15 former federal candidates in under a month.
But the response still leaves some New Democrats distressed.
"The resistance of the Wet'suwet'en against the Coastal GasLink pipeline exemplifies the simultaneous crises we are faced with today," the Young New Democrats of Quebec said in a statement.
"In the same week that British Columbia was hit by a once-in-a-century storm caused by the climate crisis, the BCNDP government continues to choose to side with capital to build this climate-destroying pipeline, and in doing so, requires the violent dispossession of Indigenous lands."
The Young New Democrats of Quebec urged federal party leader Jagmeet Singh to call on the B.C. and Canadian governments to withdraw the RCMP from Wet'suwet'en territory.
A petition in support of the statement has been signed by sitting NDP MPs Lori Idlout, Matthew Green and Leah Gazan as well as over 1,400 NDP members, more than 30 riding associations, and 15 former federal candidates in under a month.
The petition notes that unlike other parties the NDP is federated, which means the federal and provincial parties are part of one structure — "what concerns one concerns all, and therefore every New Democrat has a moral obligation to speak out." It also mentions that some young activists in the party are "tearing up their memberships."
Roberts doesn't have high hopes that the federal NDP will take action.
"I don't think Jagmeet will do it. If he does, I think it'll be a pretty weak response," Roberts said. "I just don't see him going out in front on this issue and putting an ultimatum [to B.C. premier] John Horgan."
Roberts is unconvinced that the kind of grassroots mobilization happening right now will make a difference this time. A significant component of the B.C. NDP's platform and governance has been about increased union labour, he noted, and the government wants these LNG projects to proceed because they employ union workers. Moving towards a just transition is hard when some unions are more concerned about a possible loss of power and influence than how to address the climate crisis and Indigenous rights.
"I guess that labour in B.C. has a bigger voice on this issue than the leader of the federal party and the progressive party members, at least in John Horgan's mind. As the B.C. NDP are looking at how to win the next election, they don't need the federal party to win."
The unwelcome ones
Perhaps more troubling than the decisions of the federal and provincial parties are efforts to thwart internal democracy. Hanson says that young, progressive New Democrats like her are not allowed to express themselves freely in the party, something she discovered while trying to change the B.C. NDP from the inside.
B.C. Young New Democrats have a yearly convention where members can run for different positions. These elected leaders of the youth wing do not set party policy, but they have a public profile and can put pressure on MLAs and the premier.
In early November, Hanson applied to run for B.C. YND co-chair. Three days later, after the nomination deadline, she received a follow-up email with an apology and an unprecedented requirement to submit a nomination form as soon as possible.
"I was told that because they had not mentioned the need for nomination forms previously that they would be willing to accept late forms from the BC YND candidates. I submitted mine asap later that day," Hanson wrote on Twitter.
To her dismay, the party rejected her nomination because the form had been submitted past the deadline. She explained that she was only informed of the need for the form after the deadline had passed, but the party official corresponding with her simply stopped responding.
"Some of us realize that moderation in a time of extremity means death. And the voices calling for thorough systemic change, calling for us to live up to our rhetoric, those voices are being pushed aside or being blacklisted."
"To say I am frustrated is an understatement," Hanson said. If it were an isolated incident, it might well be an oversight. But she said "it isn't a single case, I can assure you." Hanson said that Khalid Boudreau and other climate-forward candidates were rejected on the same basis.
"I fully believe that we were actively prevented from appearing on the ballot. This may have started as an administrative error, but their unwillingness to correct the error and accept our nominations shows that we were unwelcome on the ballot in the first place."
The Twitter thread she posted got many replies, with some saying they had experienced or witnessed something similar within the party. Accusations that the federal party manipulated policy conventions to thwart pro-Palestinian resolutions over many years came to a head last year when a concerted push by activists forced a vote on such a resolution. It ultimately passed with the support of over 80 per cent of delegates but has been largely ignored by party leadership.
Hanson noted that in an electoral nomination process, no one may obstruct a candidate from appearing on the ballot. If Elections Canada did the same thing, she says, it would be illegal.
Rejected candidates cry foul
Two other B.C. YND candidates shared their stories with Ricochet. Boudreau said he was given barely 12 hours to provide a second endorsement. He replied a few hours after the deadline and was told his nomination would not be accepted. "Why I needed two when we have literally only ever needed one is beyond me. They never required two in the past," he said.
Another candidate, who asked not to be named for fear of repercussions within the party, told the same story as Hanson, adding, "The B.C. YND told me themselves that the B.C. NDP didn't tell them that they had changed the requirements for nomination until after the deadline." After hearing that, he came to the conclusion that the B.C. NDP hid the nomination requirements from the B.C. YND and only informed preferred candidates of the proper requirements.
Hanson also suspects the B.C. NDP hid the new requirements from the YND. "I really don't fault the YND for this at all, despite the communication errors. They did the best they could given the clear lack of communication from the party."
All three shared the same feeling that certain people inside the party seek to control democratic processes and pick and choose who can run based on entirely arbitrary criteria that are not made public. Such behaviour is a clear violation of democratic principles, but it also indirectly affects the public. With the B.C. NDP in power, these types of decisions affect how people are represented in the political process.
"These elections are a way for members to have their voices heard. It's a fair, kind and ideal way to settle disagreements potentially within the party. And the way to have these conversations can be difficult, but it is essential," said Boudreau.
As a young Black queer, Boudreau feels that the party is using him. "They're happy to have me in a photoshoot behind the leader at a rally, but they don't want me to be heard."
He argues the B.C. NDP has a culture of silence, of "toeing the party line no matter what." Any internal dissent in the party is met with intimidation, dirty tricks and sometimes even threats. That's not healthy for any political party.
"There are different views within the B.C. NDP. Some people are okay with making marginal progress on the issues that matter. And some of us realize that moderation in a time of extremity means death. And the voices calling for thorough systemic change, calling for us to live up to our rhetoric, those voices are being pushed aside or being blacklisted. And it's a phenomenon that has been going on for at least four years," he said.
Political parties say they want young people in order to look youthful, fresh and more accountable to young voters, said Hanson, but policies that young people want — bold action on climate change or action on the housing crisis — get pushed aside and neglected.
"I wouldn't say that I'm a supporter of the B.C. NDP by any means," said Hanson. "My goal was to change it from the inside. And now I see that I was prevented from doing that for a reason."
Fear and doubt
Hanson said she has heard a number of complaints about the NDP's opaque vetting process for election candidates.
"There's a lot of great people who have tried to run [to be] NDP candidates and have been shut down by the party without any given reason. And that's always frustrating."
Joy Henderson, an Afro-Indigenous woman who recently quit the NDP and explained her reasons for doing so in a viral Twitter thread, said she witnessed the Ontario NDP use gatekeeping, gaslighting and tone policing measures to keep a Black candidate from having equal access to election tools. The party's "super-secret" vetting process, she argued, routinely doesn't approve outspoken candidates.
"As I talk to ONDP staffers, politicians, volunteers, they talk about the internal fight they endure to get anything progressive, like getting anti-Black racism training," she said on Twitter. "And I ask myself, why am I spending time fighting for change in a party that doesn't want change? Why am I fighting in colonial politics at all?"
Roberts thinks there is an internal conflict between the more left-wing members of the caucus at the federal level and the more centrist folks whose arguments revolve around "electability."
He said there is a real fear that damaging the credibility of the provincial NDP government damages the federal NDP's chances to win at the national level. On the other side, party members don't want a clone of the Liberal party — "we do run the risk of becoming Liberals in orange."
The NDP must be a party of principle, according to Roberts. "We want a vision that is big, bold and different, and fundamentally transforms Canada into someplace better for people. And part of that is climate action in a real way and just transition for oil and gas workers. Part of that is solving the housing crisis through government, which is the only way that we're going to solve this. But I don't see that happening."
Compared with other major parties, he still believes the NDP is the only realistic vehicle for significant progressive changes.
"What I would say to members of the NDP who want the party to be more progressive is don't just say it on Twitter. You have to organize around these ideas and build the capacity to force them to change their position. If you have a network of 25,000 well-organized young people who say, 'We will not vote for the NDP if they don't change this position,' the party will change."