Record 3,000-Mile Voyage for Canadian Gas Offers Relief for Asia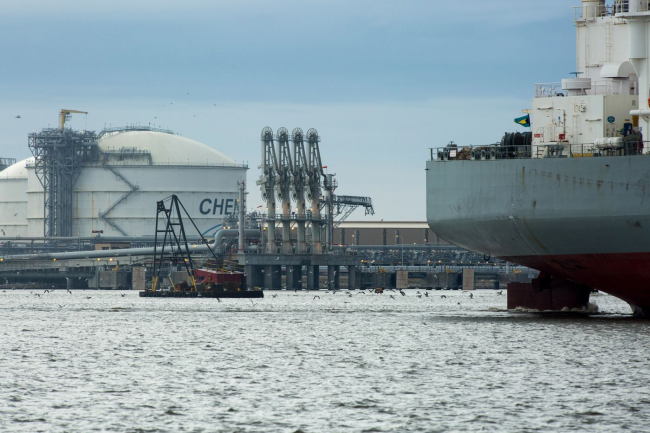 But see: https://ecosocialistsvancouver.org/article/chart-lng-expansion-plans-threaten-global-climate-progress "The gas industry aims to dramatically expand capacity for exporting liquefied natural gas. That would be very bad news for the climate."
Feb. 13, 2023
Tourmaline natural gas travels from British Columbia to Texas
Fuel wins Asia prices that are 10 times Canada's spot market
A stream of natural gas that's being unleashed from British Columbia's vast reservoirs is blazing a record-setting path through global markets, providing hope for Canada's beleaguered drillers and relief for energy-hungry economies around the world.

Tourmaline Oil Corp., Canada's largest natural gas producer, has started shipping the fuel on a roundabout, 3,000-mile journey from northeast British Columbia to Chicago and then southbound to an LNG-chilling facility on the Gulf Coast in Texas. From there, it's being shipped to ports in Asia or Europe on voyages that can range from 5,000 to 17,000 nautical miles, depending on the route.

The arrangement promises higher prices for Tourmaline's gas and a new source of the fuel for European and Asian buyers who are scouring the globe for supplies as Russia's war in Ukraine exacerbates a global energy crunch.
The gas's journey is believed to be the longest path from a natural gas well to a liquefaction facility in the world. It's also the first significant amount of Canadian gas to be contracted for markets beyond North America, a milestone for an industry that has struggled with heavily discounted prices because of a lack of domestic LNG facilities.
Tourmaline's 15-year 
agreement
 to supply 140 million cubic feet of gas per day to 
Cheniere Energy Inc.
 took effect in January, enabling the company to send the equivalent of one ship per month from North America to Asian markets, where gas prices are roughly 10 times higher than in the Canadian spot market.
Tourmaline is being paid around $20 per thousand cubic feet for its gas, minus 86 cents for pipeline transportation costs and undisclosed liquefaction and shipping costs. The current price of natural gas at Canada's AECO hub is $2.05.
"We're really happy to be receiving the price that we're receiving," said Jamie Heard, manager of capital markets at Tourmaline. 
With local gas prices languishing and domestic LNG projects stalled, multiple Canadian producers have cast about for export options. 
ARC Resources Ltd.
 and Seven Generations Energy, which are now combined, have also signed supply agreements with US Gulf Coast liquefaction terminals, but those supply deals don't begin until 2025. ARC didn't respond to requests for comment. 
Fortis Inc.'s 
British Columbia subsidiary operates a small LNG facility near Vancouver that supplies the fuel to the province's coastal ferries and has shipped occasional, small batches from its own supplies in shipping containers to China. A company spokesperson said its last shipment was in January 2021.
Tourmaline's long journey to market illustrates Canada's "missed opportunity" in helping meet global LNG demand, said Cameron Gingrich, managing partner of markets and strategy at Incorrys, a gas consulting company in Calgary.
"It's got to be a little disappointing for the Canadian industry," Gingrich said in an interview.
Still, there is some hope for the industry in the decade ahead. Incorrys estimates the country's LNG exports will rise from zero this year to 4 billion cubic feet per day when the Shell Plc-led LNG Canada project is built and expanded. A smaller LNG project called Woodfibre is also under construction.
"Canada is definitely late to the LNG party," Raymond James analyst Jeremy McCrea said in an interview.
[Top photo: A tanker at sea off a Cheniere Energy liquefied natural gas terminal on the US Gulf Coast. Photographer: F. Carter Smith/Bloomberg Photos]