The Silence of the Dams: Canada's Faux-Green Genocide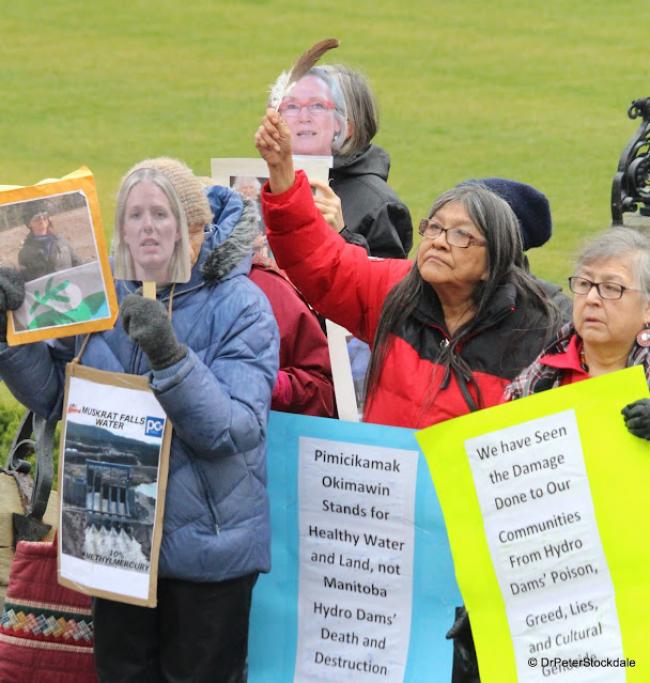 July 23, 2021
Across the land known as Canada, a growing number of Indigenous nations are under renewed attack by colonial governments conducting devastating invasions in the name of green energy and "reconciliation". While forced relocations, flooding of traditional territories, destruction of traditional country food webs, a legacy of poisoned water, and criminalization of land and water defenders have a lengthy history, the 2020s represent a dangerous decade in which the growing demand for non-fossil fuel-based energy sources is being played off against the creation of national sacrifice zones in Indigenous territories.
Last summer, Manitoba Hydro began the flooding of 45 square km of Cree lands at the massive Keeyask dam, which the energy utility acknowledges will result in "loss of inland and shoreline habitats. Birds and animals will be displaced from flooded areas. …[There will be] changes to traditional harvesting areas and travel routes on both water and land, a loss of culturally significant areas, and there is a potential for loss of unknown heritage resources."
In a sickening new twist, this was done in the name of solemnly acknowledging the genocidal acts it was about to undertake.
"Manitoba Hydro recognizes and values that Cree culture, spirituality and wellbeing is grounded in respecting the relationship and balance between people, land and water, and all other living things, and that [dam] impoundment and its impacts cannot be separated from the larger environment," the massive energy utility explained in a press release. "We acknowledge that there will be environmental and cultural loss to our partner First Nation communities as a result of the required changes to the land. We will continue to work with the communities to understand and share knowledge of project effects from both Indigenous and technical science perspectives." [Editor emphasis]
     A glossy handout from Manitoba Hydro takes great efforts to claim that these losses are "being acknowledged," which appears to be the new governmental rationale for invading and destroying Indigenous nations. Because "cultural ceremonies" have been held at the Keeyask site "to acknowledge the changes to the environment and surrounding ancestral lands," Manitoba Hydro seems to conclude that these devastating changes are in fact beneficial. There is even a subsection titled "Honouring the Water Element" that explains the Nelson River, which is being destroyed by Manitoba Hydro, "is a significant part of everyday life for the partner First Nation communities…and has sustained a way of life for centuries."
Gaslighting Partnerships
     Beneath the noble sounding, gaslighting language of "partnerships" and "honour" is a very different reality. Earlier this year, Tataskweyak Cree Nation (TCN) asked the United Nations to undertake action to fix the nation's drinking water, which has been under a water advisory since 2017. Among the reasons the water is undrinkable is because of the presence of cyanobacteria, which the Centres for Disease Control note are "are among the most powerful natural poisons known." In a support letter, NDP MP Niki Ashton reminded the UN that "COVID-19 has made action more urgent now than ever. COVID-19 has compounded the impacts of the chronic infrastructure deficits which fuel the water crises in First Nations. Many First Nations across the country are unable to comply with public health directives, as clean water is not available from the tap. Again, First Nations have been forced to pay the price of Canada's inaction, as the virus has disproportionately impacted First Nations."
TCN, along with Curve Lake First Nation and Neskantaga First Nation, are all part of a class action lawsuit against Canada for "failing to address prolonged drinking-water advisories on First Nations reserves across Canada."
     Last summer, a number of Indigenous women from TCN occupied a piece of land that was about to be flooded. It hosted the sacred site of a monument to Leon Kitchekeesik, who at age 7 fell through the Nelson River ice and whose remains were never found. A monument had been placed at the last place loved ones had seen Leon, and while community members did plan on moving the monument to higher ground, the Keeyask dam builders began plans to flood the area around the sacred site, and, without checking in with the community, removed the memorial and put it into storage. Leon's sister, Marilyn Mazurat, told CBC that "We needed our time with Leon. My heart broke because it was like losing him all over again. I was so angry. They basically desecrated his resting place."
     Manitoba Hydro wrote  to MP Niki Ashton – who had raised the urgent concerns regarding impoundment while the families were gathered in the flood zone –  that it "acknowledges that the removal of Leon's cross is a deeply emotional and difficult process for the family, and we have taken care to demonstrate understanding and respect in all interactions on this matter."
     Members of Leon's family called for the memorial cross to be returned to its original home, "Leon's Island," declaring they would move it when they were ready to do so, and a more suitable location could be prepared. To prevent any further desecration, a number of them occupied the area to try and prevent the flooding. They asked Manitoba Hydro to delay flooding, but the utility refused.
The pain the community suffered was almost incalculable. Janet McIvor, another of Leon's siblings, referenced a Keeyask Dam site sign that included the word respect. "Why are they writing that word when they haven't shown respect to us? They should remove that sign."
Colonial Divide and Rule
I spoke with a group of TCN members the night the occupation began.     Impoundment of Keeyask had already begun, and there were urgent messages being sent to Manitoba Hydro to stop, as any further release of waters could drown Leon's loved ones. Crowded around a cell phone, community members shared their stories about the lack of consultation, their frustration at being treated as mere tokens, and the rifts that had been created in the community by the colonial corporation's divide-and-rule gamesmanship.  An example of Manitoba Hydro's wolf in sheep's clothing approach was holding ill-attended meetings where Manitoba Hydro acknowledged in advance of this project that there would be significant harmful effects. These include major impacts on their right to hunt, trap, and fish; there'd be a loss of their historical connection to the land; a loss of traditional food previously harvested in the impacted areas; and a loss of sharing and traditional practices connected to the land.
Also in attendance at that meeting was Meg Sheehan of the Northeast MegaDam Resistance Coalition, who noted "we were told [by TCN members] that when Hydro looks at their communities, they don't see human beings, only dollar signs. Because of Hydro's unaccountable and dangerous practices, the water and fish in their lakes is unfit for consumption and dangerous for swimming, with anyone going into the water suffering a punishing skin reaction."
Sheehan pointed out that in addition to the significant impact on traditional ways of life and the country food web at a time of major food insecurity, Manitoba Hydro adds insult to injury by sending exorbitant hydro bills that are beyond the reach of community members. "Imagine someone who never gave their consent to Hydro to invade their lands now receiving a monthly bill that can be over $1,000 just because they use some of the energy that was, in many respects, stolen from right out under them," she said.
Notably, Keeyask was initiated by the former NDP government of Gary Doer, who at the time exulted that ""hydroelectricity is Manitoba's oil." Such green energy triumphalism, however, cannot hide the devastating impacts of megadams, especially on the Indigenous peoples disproportionately impacted.
Blood Megawatts
Across Canada, the construction and operation of megadams has caused and will cause even more methylmercury poisoning of traditional country foods relied upon by local communities. Canadian dam builders – engineers, financiers, cement and construction companies - have a similarly destructive record around the globe. Electricity from large (over 30 MW) hydrodams is dirty energy, what Sheehan calls "blood megawatts." Science shows they are a major source of methane, a greenhouse gas accelerant far more dangerous than carbon dioxide. They destroy Indigenous cultures, biodiversity, and carbon-sequestering forests. They have disrupted and disturbed millenia-old migratory patterns of fish and other wildlife that make up the country food webs of millions of people worldwide.
The 1997 report of the World Commission on Dams concluded: "At the heart of the dams debate are issues of equity, governance, justice and power – issues that underlie the many intractable, problems faced by humanity….In too many cases an unacceptable and often unnecessary price has been paid to secure those [dams'] benefits, especially in social and environmental terms, by people displaced, by communities downstream, by taxpayers and by the natural environment."
During last summer's standoff at Leon's Island, Manitoba Hydro was eventually forced to back down on impoundment until the family could gather one last time at the sacred site. Canadian Mennonite magazine interviewed Mazurat shortly afterward. She said at the time, "I have a hard time accepting the fact that the next time I go down it won't be there. All that I've known and loved will all be under water." 
The $13.4 billion Keeyask dam, like its brother dams at Site C and Muskrat Falls, is an exorbitant financial sinkhole, known to locals as "Keeyask-atraz" for workers because of "a prison-like environment plagued by fear, intimidation, drug and alcohol abuse and discrimination."
A report from the province's Clean Environment Commission described the effects of the Manitoba Hydro man camps that invaded northern Manitoba beginning in the 1960s and the subsequent epidemic of sexual abuse against Indigenous women. The report authors heard from many members of Makeso Sakahikan Inninuwak (aka Fox Lake Cree Nation), including Franklin Arthurson, who testified that his late wife had endured a decade of residential school abuse only to return to her occupied homeland: "She came home from a hellhole called residential school to another hellhole called Hydro project."
"They just came in and took over. We were pushed aside," Marie Henderson told the hearing. "It even got to the point where they said we were squatters in our own land, because they wanted the construction to be built."
The report also quoted a member of the Tataskweyak Cree Nation who "stated that in the pre-development era, residents had everything they needed. Fish were abundant, the water was healthy, and the land was teeming with wildlife. The community was self-sufficient. She recalled how community members had been promised that hydroelectric development would bring them low-cost electricity. Now, she said, the water is polluted; the cost of power, astronomical. She felt that Manitoba Hydro played with people like a 'predatory animal.'"
The predatory animal known as Manitoba Hydro has played a significant role in promoting similarly devastating projects like Labrador's notorious Muskrat Falls megadam. An inquiry into the Muskrat Falls disaster concluded that a key report commissioned by Manitoba Hydro was "plainly and obviously improperly influenced and biased in favour of the project."
Martial Law at Muskrat Falls
Muskrat Falls became the remarkable site of sustained resistance to the megadam, and the jailing of Indigenous elders sparked international outrage. Opposition was so strong that the only way the government of Newfoundland and Labrador (backed with $9.2 billion in support from Ottawa) could push the project through was to essentially declare a judicially-stamped state of martial law via a draconian injunction enforced with the firepower of the RCMP and Canadian military. For over four years, Inuit and Innu water and land defenders were delivered a clear message through the barrel of a gun: you will be indefinitely jailed if you return to protect your traditional territories.
In June 2019, the United Nations Special Rapporteur on human rights and hazardous substances and wastes, Baskut Tuncak, called on the federal government to use its leverage to address concerns about lack of proper consultation with Indigenous people as well as the expected methylmercury poisoning.  "I urge the Federal Government to use its leverage as the largest investor in the project to review whether UNDRIP compatible procedures were followed for all affected indigenous peoples, and to prevent the release of methyl mercury," the rapporteur said.
While colonial bean counters' main concern seems to be the doubling of Muskrat Falls megadam's cost – over $13 billion – those on the ground continue to raise a substantial list of objections, pointing out that governments ignored key recommendations from a Joint Review Panel composed of provincial and federal representatives. The project proponent Nalcor (a provincial crown corporation) submitted an incomplete Environmental Assessment that excluded a major downstream area, Lake Melville (a significant cultural and nutritional source sustaining Inuit life since time immemorial, Labrador's largest body of water and one designated an Ecologically and Biologically Significant Area by the Canadian Science Advisory Secretariat).
A major source of worry is the documented concern from a four-year Harvard University study that a failure to clear the 101 sq. km reservoir impoundment area of vegetation, trees, brush and topsoil would exacerbate the already significant risk of the neurotoxin methylmercury bioaccumulating in the Indigenous country food web, rendering it unsafe for consumption for 30-35 years. This was followed by a failure of the federal and provincial governments, as well as Nalcor, to abide by the majority recommendation of their own Independent Experts Advisory Committee to mitigate methylmercury poisoning by requiring that "Nalcor undertake targeted removal of soil and capping of wetlands for the reduction of both the amount and duration of methylmercury production in the Muskrat Falls Reservoir."
Additional concerns include the worry about mass-casualty flash flooding from a catastrophic dam break. The conclusion of a study by Swedish quick clay expert Stig Bernander on the North Spur (an unstable natural formation being relied upon to hold back the full reservoir) cautions that "the safety and reliability of the Muskrat Falls dam have not been demonstrated." Were such a flash flood to occur, it would also have longer-term effects that would poison the area for centuries, given it would dredge up and spread toxics from already existing contaminated sites.
A Failure to Seek Consent
Ultimately, as at Keeyask and other major megadams, Muskrat Falls proponents failed to engage in the process of free, prior and informed consent with all Indigenous peoples affected, as prescribed by the United Nations Declaration on the Rights of Indigenous Peoples (UNDRIP).
From the very beginning, project proponent Nalcor and the province of Newfoundland and Labrador have also sought to downplay the threat of methylmercury poisoning in the traditional country food web of Indigenous peoples affected. The issue has always been addressed by project proponents and funders through the language of mitigation – containing or avoiding a risk that will result from the dam's construction and operation – instead of asking whether the risk is too great to begin with.
Last fall, one of the authors of the Harvard report, Ryan Calder, who has continued to monitor the project's effects, found that the methylmercury levels were rising, as expected, to concerning levels, but Muskrat Falls defenders again downplayed the threat posed to the Inuit and Innu who, as austerity is imposed on Labrador, will need to rely even more on their increasingly poisoned traditional country foods.
Despite the ongoing disaster of Muskrat Falls – which has saddled the province with such a crushing debt that there are now recommendations to impose austerity on the residents who are also facing a doubling or tripling of hydro bills – there are disturbing signs that the federal and provincial governments are teeing up yet another megadam that would further desecrate Labrador.
The proposed Gull Island Megadam project on the Grand (Mistashipu) River is slated to be three times the size of Muskrat Falls. flooding 232 square kilometers of pristine boreal forest and exposing  communities to the third highest levels of methylmercury of 22 proposed new dams across the land. Gull Island's primary purpose would be to meet the "green energy" demands of the Northeast U.S. and will require controversial new transmission corridors that have prompted significant protest south of the border. A reference in last fall's throne speech to a so-called Atlantic Loop (a hypothetical regional electricity grid ) is a worrying sign that Gull Island, despite opposition from Indigenous people and many settler residents, is going to be forced through in the same brutal manner as Muskrat Falls. 
Where Colonial Judges Sit
As if to pave the way for Gull Island, the last of the arrested Labrabor Land Protectors – Indigenous and non-Indigenous land and water defenders – were sentenced for "civil contempt" in January. The same colonial judge who had issued the draconian injunction in 2016 expressed his incredulity that those trying to maintain their lives, their livelihood, their culture, their very identity, would somehow thumb their noses at the so-called "rule of law" that allegedly undergirded the prohibition on trying to stop the impending disaster.
To ensure the continued operation of Muskrat Falls –  what many have called an act of genocide in the making, one similar to the mercury poisoning at Grassy Narrows – the judge demanded undertakings that all would continue to obey the draconian terms of the injunction for an additional two years, on top of the four years that this group had already been under strict conditions.
Like the Manitoba Hydro PR team that insisted the destruction of Indigenous territories at Keeyask was done in the spirit of reconciliation, so the judge in Labrador echoed such rhetoric. As CBC reported, the judge "said the protesters did not seem to understand that the contempt of court was nothing to do with Muskrat Falls, the environment, Indigenous rights, reconciliation or ownership of land — issues he said that are very important to the court and to society — but rather, the charges had to do with the actual actions, not the motivations of the protesters."
But as one of the protectors, Denise Cole, responded, "That's not reconciliation; that's like a tap on the head saying, 'I appreciate that you think that you're right. I'm here to tell you you're wrong and in my era of reconciliation I won't punish you as much as I could.'  [Editor emphasis]That's really the breakdown of it. I'm not arrogant, but I'm aware this is a very broken system and there's still a tremendous amount of work for us to do."
Cole told CBC that "two worlds collide" when a colonial court feels threatened by Indigenous people trying to protect themselves from genocidal projects. "We all sort of go under the belief that we have these constitutionally protected rights as Canadians, and then we realize that there's a lot of ifs or buts. From him, it's that I don't respect him and the court enough, but for me he's talking about my creator who has given me a responsibility to next generations and to my culture, to the land and to the water — there's a responsibility that I hold there, and it tells me that he still doesn't get that. Which is a shame."
In the same manner genocidal actions are ongoing with the complicity of Labrador's colonial courts, the government of Manitoba is following in the footsteps of draconian legislation passed in Alberta. Legislation is being considered that would criminalize Indigenous land and water defenders and supporters when they raise their voices against the green genocide of Manitoba Hydro. Bill 57, the Protection of Critical Infrastructure Act, broadly defines as infrastructure anything that makes a "significant contribution to the health, safety, security or economic well-being of Manitobans" and can include projects under construction. To prevent protests, megaproject profiteers can get from any provincial court a "critical infrastructure protection zone" declared that would prevent access to the sites or blockades while creating the infamous and useless protest bubble that has a history at various sites across North America.
"[Bill] 57 would silence our voices and just make us conveniently protest over there in the corner far away from where the heart of the issue is," said Lisa Currier, with Idle No More and an organizer of a protest against the legislation.  Notably, members of Tataskweyak Cree Nation blockaded access to Keeyask earlier during the pandemic out of concern that 1,000 outside workers coming into the region would be spreading Covid-19.
UN Says No to Site C
Meanwhile, the NDP BC government of John Horgan is continuing with similarly disastrous plans at Site C, a megadam which the United Nations insists should be stopped due to its violation of Indigenous rights. When Horgan announced that BC would forge ahead despite massive opposition and the failure to secure the consent of Indigenous peoples, he famously declared, "When it comes to reconciliation and working with Indigenous leadership, look,  there has been over 150 years of disappointment in BC. I'm not the first person to stand before you and disappoint Indigenous people."
Hence, Horgan fell back on the Manitoba Hydro strategy of acknowledging the harm he was committing to because, well, that's always been the way, so one more attack on Indigenous rights shouldn't come as a surprise to anyone. [Editor emphasis]
Earlier this year, West Moberly First Nations Chief Roland Wilson wrote to Horgan, demanding a halt to Site C construction and calling for the NDP to "abandon the pretext that the Site C dam can be constructed and operated with[out] infringing" the nation's treaty rights. Wilson pointed out that Site C, like Muskrat Falls, faces major geotechnical issues, is wholly unnecessary, and violates Treaty 8, which is supposed to be in effect "as long as the river flows." Wilson pointed out that at the time of the treaty being signed, "it would have been incomprehensible that the agreement would later be argued to authorize the blockage of the Peace River with a series of three massive dams and sprawling reservoirs…the Indigenous treaty partners would not, could not, and did not, agree to the destruction of their lands."
If Site C goes ahead, it will flood 5,500 hectares of land, desecrate sacred sites, destroy ancient forests, disrupt wetlands, contaminate land-based medicines and poison fish with methylmercury. As Wilson mentioned, this will compound the damage wrought by two previous dams upstream. Needless to say, this does not square with the government's 2019 passing of legislation promising to respect the core principles of UNDRIP, which the BC NDP has simultaneously celebrated and refused to respect ever since.
In Quebec, the Innu First Nation of Pessamit, the Atkamekw First Nation of Wemotaci and the Anishnabek First Nation of Pikogan went on record last summer in opposition to the New England Clean Energy Connect Project, another Orwellian-named initiative that plans to profit from the megadam power that relies on what the three Nations point out is a massive infrastructure of "33 production structures, 130 dams and dikes, 10,400 km2 of reservoirs, and tens of thousands of transmission, distribution and road lines [that] have been illegally installed on our lands and waters." The Nations have never been compensated for Hydro-Quebec's occupation, which "has destroyed traditional family units and upended the socio-economic stability of" their communities.
While BC, Quebec and Labrador are traditionally viewed as the major hydropower players, protests against the Burleigh Falls dam in Ontario erupted earlier this year as well. As always, at the heart of protests was the utter failure to properly consult, in this case with the Kawartha Nishnawbe. In a petition with over 30,000 supporters, they point out that when Burleigh Falls dam was first built in 1912, it resulted in the forcible relocation of Kawartha Nishnawbe's people. They have never "been compensated for the theft of our land and we have been treated as nothing more than "squatters" in our own land ever since. Despite numerous court rulings recognizing that the Kawartha Nishnawbe is a Mississauga community with Treaty rights under the Treaty of 1818, "Canada has ignored these rulings and continued to act as if Kawartha Nishnawbe does not exist."
     Back in Manitoba, water defender Angela Levasseur, from O-Pipon-Na-Piwin Cree Nation (aka South Indian Lake), has been tirelessly campaigning to stop Manitoba Hydro from further flooding her community. She too began a well-publicized petition that seeks to prevent the utility from winning what she names a "licence to destroy", and is urging the federal government to intervene given the province's failure to engage in any respectful dialogue, much less seek free, prior and informed consent.
But Canada's largest federal political parties refuse to touch the megadam issue. While the Conservatives were behind the initial push for Muskrat Falls, the Liberals are more than willing to sacrifice Indigenous rights in the mistaken belief that such dams will help them meet climate change targets. NDP leader Jagmeet Singh has refused to come out from a self-imposed cone of silence on Muskrat Falls and Site C (perhaps to placate the BC NDP), and has historically been missing in action on Manitoba Hydro violations as well (again, perhaps a nod to his provincial NDP counterparts, who approved Keeyask). Singh rightfully embraced the calls for justice at Grassy Narrows, where a half century of mercury contamination has left profound and lethal effects, but he won't touch the very same issue where the contamination is getting underway but easily preventable.
With political parties unwilling to address the dangers posed by megadams, it will fall as always to the Indigenous front-line defenders who are refusing to allow further encroachments on and destruction of their territories, as well as their allies, to expose the faux-green genocide being undertaken so people can think that driving electric cars and running their laptops on non-fossil fuel electric power are somehow contributing to a better world. As governments will attempt to pit green energy advocates against Indigenous peoples, the issue is not an either/or binary. Rather, we need a more nuanced discussion about the kind of society we need to create in order to fully honour and respect Indigenous rights while ensuring that we do not continue to engage in the kind of megaproject fiascos that ultimately replicate the very colonial violence to the earth that requires us to consider alternative energy sources in the first place.  
(photo: from Peter Stockdale: Rita Monias and Flora Jane Ross before they arrested on Parliament Hill for demanding that the Canadian government and Manitoba Hydro end  genocidal dam building in their traditional territories)
A 3-part series of this piece appears in rabble.ca in July, 2021
[See also https://ecosocialistsvancouver.org/article/lithium-gold-rush-inside-not-...
And this: UPDATED: Lithium refinery proposed for Fort William First Nation, FWFN has signed a letter of intent with a company developing a lithium deposit near Kenora.https://www.tbnewswatch.com/local-news/lithium-refinery-proposed-for-for...
"Avalon CEO Don Bubar said "We are delighted to have the opportunity to create a new precedent for collaboration with Indigenous business...I share FWFN Chief Peter Collins' vision for how this operation can inspire other Indigenous businesses to become future suppliers of lithium mineral concentrates for the refinery."
Bubar added that he agrees with Collins that FWFN could become "the hub of the North for all First Nations communities in Northwestern Ontario."
For his part, Chief Collins cautioned during an interview that "This is a non-binding agreement. That's something we want to make clear."
Collins said there's a lot of work to do in the community, including ensuring that any environmental concerns associated with the refinery can be addressed.
"Somewhere down the road, our council still has to buy in," he said. [editor emphasis]
Collins suggested that if the project does come to fruition,  there's the potential for opening a battery-manufacturing plant that FWFN would own.