Why a Big Climate Victory in New York Matters Everywhere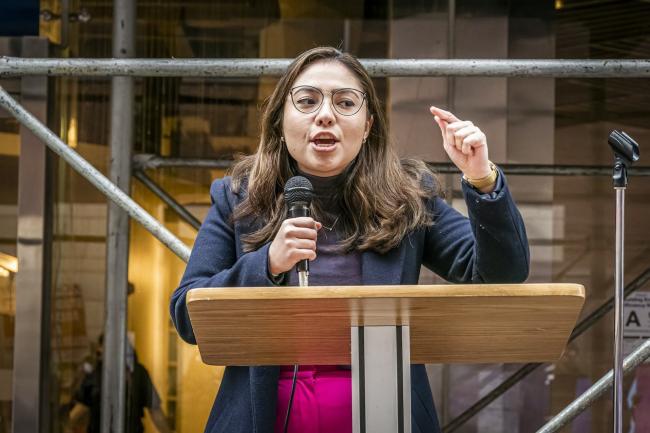 May 4, 2023
After two years of last-minute failures, a groundbreaking bill made it into the state budget—providing a blueprint for climate activists in other states.
"The biggest Green New Deal win in US history." So said the New York City chapter of the Democratic Socialists of America after the Build Public Renewables Act made it into the state's budget on Monday evening. Readers who haven't been following this battle may not appreciate why climate watchers were so giddy about the workings of a state legislature this week. They might, for example, instead focus on New York passing the first statewide ban on new gas hookups, starting in 2025. And that's a big deal, but there's a reason activists are even more worked up about the BPRA. So let's unpack it.
The Build Public Renewables Act hides a revolutionary idea behind a wonky title: "that the state should be empowered to provide clean energy if the private sector fails to," as TNR columnist Liza Featherstone wrote last month, calling it "the boldest challenge yet to the fossil fuel industry."
In practice, the BPRA would require and empower the New York Power Authority to rapidly build renewable energy infrastructure to meet the goal of 100 percent clean energy by 2030. It's easy to underestimate what a big step that is in a country that has overwhelmingly adopted a privatized model of energy generation. "The bill is therefore seen by proponents and detractors alike as a possible foundation for socializing and centralizing control of all energy in order to effectively address the climate crisis and keep energy affordable and accessible to all," Liza explained. "It provides a way of ensuring that public interest, rather than the profit motive, dominates energy generation."
But that's not the only reason the BPRA has generated this outpouring of emotion. The act previously failed twice in New York. After the failure in 2021, TNR staff writer Kate Aronoff wrote,
its backers within and without the legislature worked on expanding their coalition, opening up conversations with environmental justice and labor groups, among others. New language added as a result of those conversations aims to safeguard low-cost power for low-income New Yorkers and those who live in disadvantaged communities and ensure that projects don't violate Indigenous sovereignty. The bill also provides project labor agreements for the construction of clean energy projects and would democratize the process by which NYPA approves and locates new projects. Strengthened labor provisions … helped to move labor groups from oppositional to neutral, and some from neutral to supportive.
So when, after all this work, the legislative session ended in June 2022 again without the proposal making it to law (despite passing the state Senate), this was seen as a particularly depressing signal for U.S. climate policy—all the more so because it wasn't "Republicans to blame," Kate explained, "but Democrats ostensibly committed to climate action." If Democrats couldn't manage to pass a policy to reconfigure energy generation and make good on their 2019 climate goals in New York while controlling the Senate, Assembly, and the governorship, Kate reasoned, it's hard to imagine them making much progress anywhere else.
All of which brings us back to this year's drama. Legislators at long last managed to finalize and pass the 10-bill series for the state's budget, including the BPRA in the package, on May 1, a full month after the original state budget deadline of April 1. As of early April, it wasn't at all clear that the BPRA was going to make it in—at least not in anything like its original form. And it seemed that Democratic Governor Kathy Hochul might be one of the people standing in the way. "If New York finally does start passing bills to make good on its four-year-old climate law," Kate wrote in an update on the fight, "it'll be the result of near-constant pressure from outside groups and having certain kinds of Democrats—those who've sworn off fossil fuel cash, for instance—making the case and whipping votes on the inside."
The passage of the BPRA on Monday without one of the loopholes that was under discussion (letting municipalities opt out) is therefore credited as a victory not just for climate activists in general but for the specific progressive organizers and their legislative allies who refused to give up on this policy. It's likely to be considered proof of concept for battles in other states. TNR will have more on this shortly.
[Top photo: Kristen Gonzalez speaks at a podium. ERIK MCGREGOR/GETTY IMAGES New York State Senator Kristen Gonzalez, who campaigned on the Build Public Renewables Act]