'Global LNG Boom Must Be Stopped in Its Tracks,' Climate Coalition Tells Biden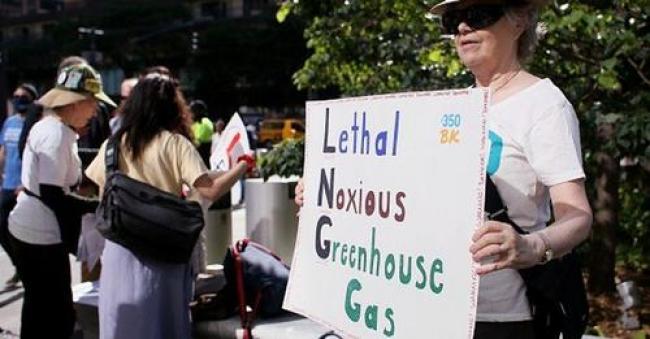 Apr. 12, 2023
"Every LNG terminal that comes online risks locking in decades of avoidable climate pollution and environmental injustice."
Ahead of a planned global summit on the climate and environment in Japan, campaigners on Wednesday urged the Biden administration to resist pressure from Japanese officials to expand public investments in liquefied natural gas, which is derived from fracking and the drilling of oil and gas wells, warning that proponents have wrongly claimed the gas is a "clean" alternative to other fossil fuels.
The Group of 7 (G7) is expected to convene from April 15-16 in Sapporo, Japan for its Climate, Energy, and Environment Ministerial, and campaigners say Japanese officials are likely to push a so-called "Green Transformation" agenda, which despite its name includes a heavy reliance on technologies related to fossil fuel extraction including LNG, co-firing of ammonia at coal power plants; fossil hydrogen; and carbon capture, utilization, and storage.
LNG is gas that has been chilled and liquefied after being extracted by fracking or drilling. Japan spent nearly $40 billion on LNG export terminals between 2012 and 2022, becoming the world's largest funder of the gas.
As Reuters reported Tuesday, a draft statement released this week from the G7 climate ministers omitted earlier language calling for "necessary upstream investments in LNG and natural gas" and claiming that "demand for LNG will continue to grow," but the 116 groups that wrote to the Biden administration on Wednesday—including Friends of the Earth (FOE) U.S., Extinction Rebellion U.S., and Public Citizen—said there is still uncertainty about how the summit will approach LNG as the host country pushes for its increased usage.
"President Biden can't let LNG hijack the G7," said Lukas Ross, program manager at FOE. "The global LNG boom must be stopped in its tracks."
"As the International Energy Agency and others have made clear, there is no preventing a 1.5°C world without preventing new oil and gas investments."
Since LNG is a product of fossil fuel extraction, critics say its continued expansion would harm both "fenceline" communities that lie near fracking and drilling sites and the entire planet as scientists and energy experts warn that policymakers will not be able to prevent global heating over 1.5°C without a rapid shift away from fossil fuels.
"Communities living near these dangerous facilities face extreme health risks due to the high amounts of harmful pollutants released by LNG production and export terminals," said FOE in a statement. "Moreover, investments in LNG threaten global commitments to reduce emissions and keep global temperature rise below 1.5°C—every fraction of a degree beyond which the impacts of the climate crisis magnify."
"Nevertheless, leaders from Japan and other countries continue to push for an endorsement of increased LNG usage, and there is no clear evidence the Biden administration is pushing back," the group said.
The campaigners in their letter called on the White House to use its influence at the G7 summit to prevent any statement signed by world leaders from endorsing new contracts for LNG projects; attempts to expedite the permitting process for LNG export terminals, which "already fails to consider climate, communities, and consumers, serving as a rubber stamp for industry"; public financing for LNG; and the development of a "clean" certification for LNG, which risks "helping LNG companies sell more of their product and secure more contracts for new facilities."
"As the International Energy Agency and others have made clear, there is no preventing a 1.5°C world without preventing new oil and gas investments," the letter reads. "Every LNG terminal that comes online risks locking in decades of avoidable climate pollution and environmental injustice. Given the pipeline of projects already under construction, it is widely expected that the global market will be glutted by mid-2025, leaving buyers trapped in inflexible long-term contracts and delaying the replacement of methane gas with cheaper renewables and efficiency."
Japan's push to expand LNG financing is just part of G7 countries' continued support for fossil fuels. As Oil Change International noted in a statement on Tuesday, despite the 2022 G7 summit yielding a commitment to "end new direct public support for the international unabated fossil fuel energy sector by the end of 2022," public finance for fossil fuels in G7 countries totaled at least $73 billion between 2020 and 2022 while backing for clean energy projects amounted to just $28.6 billion.
"Through upholding and strengthening last year's commitments, the G7 can prevent backsliding and directly shift $24.3 billion a year in public finance out of fossil fuels and into clean energy," said Oil Change International. "This would bring the G7's clean energy finance to $34 billion annually, a sum almost large enough to close the $36 billion energy access finance gap."
The group's Japan finance campaigner, Makiko Arima, warned that Japan's Green Transformation agenda "is just a euphemism for technologies that prolong the use of fossil fuels."
"As the host of this year's G7, it is Japan's responsibility to act now and transition towards cleaner and more sustainable energy sources, not hide behind greenwashed fossil fuels," 
said
 Arima. "Japan must change course and not hold back the rest of the G7 nations in this crucial fight against climate change. Along with being critical to meet climate targets, shifting to clean energy and phasing out fossil fuel reliance is also the best way to permanently bring down soaring energy costs and increase energy security."
A G7 summit that results in more commitments to expand LNG would be "in direct conflict with our globally agreed-upon climate goals," said Cherelle Blazer, senior international climate and policy campaign director for the Sierra Club, which also signed the letter sent to the Biden administration.
"The era of fossil fuels is rapidly coming to an end," said Blazer. "The world's foremost scientists have told us everything we need to know—the future will be dire if we do not rapidly transition to a 100% clean energy economy. There is no justification for any country to support the expansion of LNG projects anywhere when there are cleaner, safer, and more reliable energy alternatives readily available."
"The Sierra Club calls on the United States to use its influence to keep the G7 gathering on a path to clean energy and resist the efforts of Japan and the gas industry to prop up unsustainable LNG projects," Blazer added.
In a separate campaign on Wednesday, advocates representing the Big Shift Global and the Glasgow Actions Team planned to assemble outside the World Bank headquarters in Washington, D.C., wearing hazmat suits and carrying a model of a pipeline, to protest the bank's investment of at least $930 million in fossil fuels in 2022.
The action marks the groups' second day of protests amid the World Bank's spring meetings.
"That the World Bank is promoting and funding gas projects at a time countries are moving to cleaner energy is outright mockery to this important transition," said Dean Bhemukuzi Bhebhe of Power Shift Africa.
[Top photo: A woman takes part in a protest against fracked gas exports on June 15, 2022 in New York. (Photo: John Smith/VIEWpress)]