550 Groups Give BC an "F" on Climate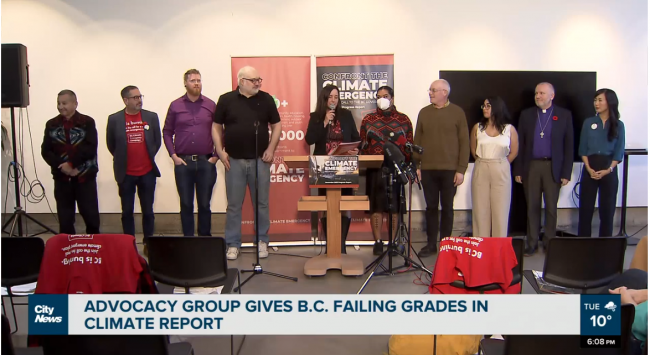 Nov. 7, 2023
See video at link here: https://vancouver.citynews.ca/2023/11/07/bc-climate-emergency-fracking-lng/
B.C.'s support for fracking and LNG is under scrutiny in this year's edition of the BC Climate Emergency Campaign's progress report.
The campaign report came in the form of an open letter to the government signed by over 550 organizations. It calls for the province to turn the CleanBC plan into a genuine climate emergency plan. This involves implementing 10 actions outlined in the report, which include setting binding climate pollution targets based on science and justice, investing in a zero-emissions economy, and quickly shutting down all fossil fuel production and use.
The province is not on track to meet its climate targets, the report says, arguing that ongoing support for fracking and natural gas, as well as allowing thousands of new homes to connect to fossil fuels, is undermining efforts to implement the official CleanBC plan, the B.C. government's official framework to reduce climate-changing emissions. As well, it points to the continuing approval of new LNG plants as another issue that is in opposition to reducing greenhouse gas emissions.
All of these factors, the report says, are locking in climate pollution for decades.
Advocates say the province's ongoing support for fracking and liquified natural gas and allowing thousands of new homes to connect to gas is undermining efforts to reduce greenhouse gas emissions.
"The most important thing is that they have to stop making the problem worse so that we can dig in and make it better," Climate Emergency Unit spokesperson Seth Klein said.
"The key way in which you stop making the problem worse is ceasing to approve new LNG plants and declaring that new buildings will no longer be allowed to hook up to gas lines."
"What it is about is cutting down and eventually eliminating the use of energy that comes from fossil fuels. That means you've got to have an alternative energy source, and you've also got to try to reduce demand," University of British Columbia Adjunct Professor Roland Clift added.
Some government plans and policies that are in development, such as commitments to nature conservation and public transit, are moving the province in the right direction, according to the report. However, it suggests the government's response to the climate crisis has largely been reactive rather than proactive, and that any policy changes lack the urgency necessary to confront the climate emergency.
The report also calls on the government to end fossil fuel subsidies. When asked about concerns over whether inflation and the cost of living could limit the appetite for government action, Klein said the cost of inaction on climate is much higher.
A statement from the Minister of Environment and Climate Change Strategy says the government is working on a number of climate fronts.
"This includes implementing our New Energy Action Framework, which includes developing regulated reduction of oil and gas emissions by at least a third by 2030 to ensure we meet our targets and establishing a clean energy and major projects office to support clean energy projects like hydrogen and renewable electricity. We're working toward a 75 per cent reduction in oil and gas sector methane leakage by 2030 and a near elimination by 2035," it said.
With files from Kate Walker
The full report is here: https://bcclimateemergency.ca/progress-report
[Top: Screen shot - The B.C. government has received a string of failing grades, and the BC Climate Emergency Campaign, an advocacy group, says it's not on track to meet its climate targets. Kate Walker has the details of the group's 2023 climate report.]