Environmental, labour and aboriginal leaders who are enabling fossil fuel capitalism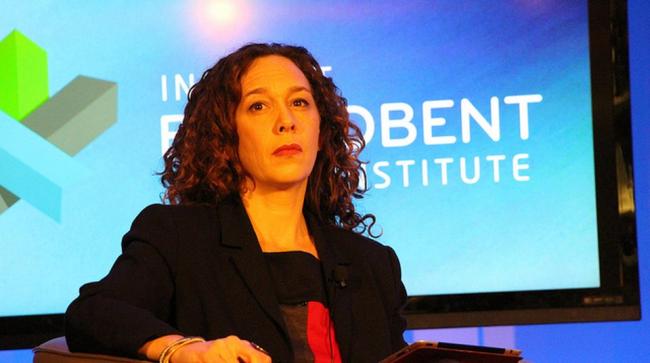 [One webpage editor's note: Three items below - Tzeporah Berman's new position in Alberta, 'astroturfing'  by some US unions, and the promoters of a bitumen refinery who include the then-President of  the paperworkers union I was a member of for years.]
---
The surprising composition of Alberta's new oilsands GHG advisory group
by JNW staff, jwenergy.com, July 14, 2016
Former Canadian Association of Petroleum Producers (CAPP) president David Collyer will join celebrated environmental activist Tzeporah Berman [above photo] and First Nations leader Melody Lepine in co-chairing the province's new Oil Sands Advisory Group (OSAG).
OSAG is tasked with advising the provincial government on the oilsands aspects of its Climate Leadership Plan. OSAG will report on how to implement the legislated annual greenhouse gas (GHG) emission limit of 100 megatonnes for oilsands production, what the best innovation investments to reduce GHG emissions in oilsands production are, and how to develop effective structures and processes to address environmental issues such as water and biodiversity.
In addition to his CAPP presidency, Collyer is also former country chair of Shell Canada. Lepine is director of government and industry relations for the Mikisew Cree First Nation, and Berman is adjunct professor of the faculty of environmental studies at York University. She's also co-founder of Forest Ethics and former co-director of Greenpeace International's Global Climate and Energy Program.
"It is the diversity of this group and its problem-solving focus on emissions leadership, local environmental performance and innovation that will help de-escalate conflict and contribute to the ongoing success of this important industry," says Collyer.
Alberta says that OSAG members want to ensure a full range of views in their discussions, from both industry and the public. A public-engagement plan is currently being developed.
The government expects the advisory group will convene in the next few weeks and deliver advice on the first issue area in six months.
"The advisory group will help our government address central issues on this key Alberta job creator and economic driver: how to establish and sustain Alberta's climate leadership among energy-producing jurisdictions; how to better steward our air, land and water; and how to take advantage of current and future market opportunities while meeting the needs of indigenous and non-indigenous communities," says Minister of Energy Shannon Phillips.
[Original of above article at  http://www.jwnenergy.com/article/2016/7/industry-vet-environmental-activ...  ]
[The above 100 million tonne/year 'limit' is a significant increase of over the current approximately 70 tonnes, already the largest source of emissions in Canada.]
---
By Steve Ahlquist , RI Future.org, July 12, 2016 
Rhode Island building and trade unions are working with a Koch brother-funded astroturfing campaign to fight against renewable energy, an email obtained by RI Future reveals.
Michael Sabitoni, president of the Rhode Island Building & Construction Trades Council, had distributed to union members and legislators an email from Paul Hartman of Energy4US, a shadowy oil industry insider, asking if "someone from your shop could add a comment or two" to a Facebook post that labeled Energy4US as a "'big oil' entity," according to the email.
Efforts to contact Mr. Sabitoni were unsuccessful.
"We are thrilled to have the Rhode Island Building and Construction Trades Council on board with Energy4US and I look forward to working with you and your members in the future," said Hartman in the email.
Energy4US is an astroturfing campaign attempting to raise support for fossil fuels and downplay the expansion of renewable energy sources. In Rhode Island, Energy4US has concentrated on opposing the carbon tax bill proposed by Representative Aaron Regunberg. Astroturfing "is the practice of masking the sponsors of a message or organization to make it appear as though it originates from and is supported by a grassroots participants."
On June 20 Paul Hartman, the coalition advisor for Energy4US, sent Sabitoni the following email: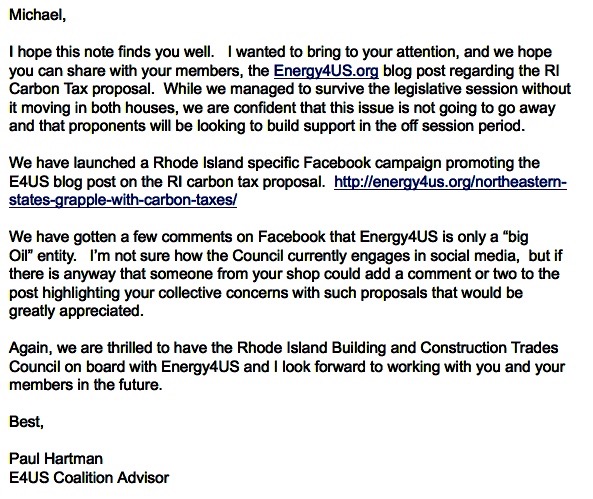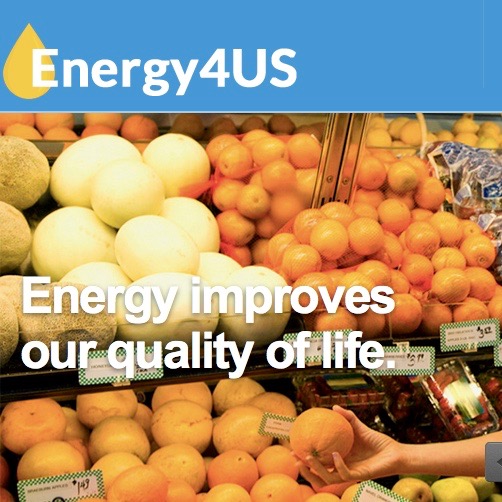 In the email Hartman notes the existence of "a few comments on Facebook" that call Energy4US out as an astroturfing group, or in the words of Hartman, "only a 'big Oil' entity." Hartman asks Sabitoni if "someone from your shop could add a comment or two to the post highlighting your collective concerns with such proposals."
Sabitoni promptly forwarded the email to three recipients under the header, "Energy4US and RI Carbon Tax proposal" saying:
Scott send this out to all b[uilding] t[rades] reps…Faith put this up on our web site please…thx M
Here's the Facebook post in question, with a link to the 'op-ed' –
According to Frackorporation, "Energy 4 Us lists no one by name with regards to staff or contact… To the casual viewer it appears to be an independent "grassroots" group." Paul Hartman, who identifies himself as Energy4US's coalition advisor in his email to Sabitoni, is mentioned as the Regional Director, State Affairs for America's Natural Gas Alliance (ANGA) in the Frackorporation piece. Hartman does not list his involvement with Energy4US on his LinkedIn page.
In an email Hartman confirmed that he has "recently come on board as the Coalition Advisor." He answered none of my questions regarding the claims that Energy4US is an astroturfing group, instead claiming that, "E4US is a collaboration of diverse organizations from across the northeast who have an interest in affordable, reliable energy for our families, employers, employees, communities, schools, hospitals and the most vulnerable among us."
They are listed on the website, seen below, second from the bottom of the list. Hartman wrote, "I would encourage you to check back often to see the growth of the collaboration and check our social media feeds for educational posts on national and regional energy issues."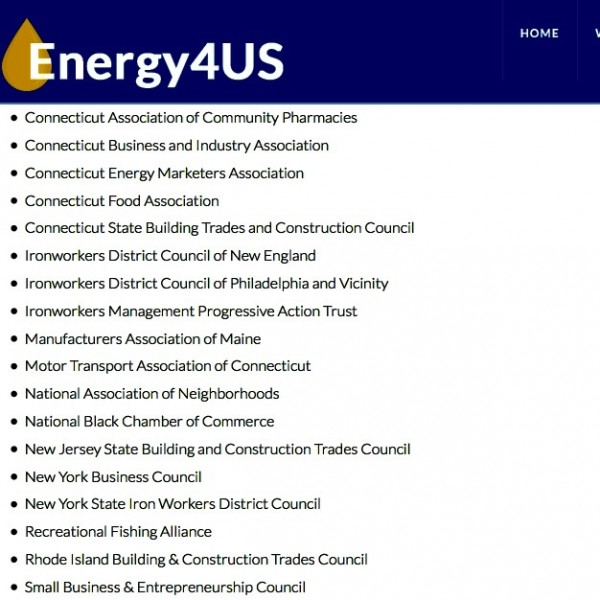 The Rhode Island Building & Construction Trades Council is listed as a member of the Energy4US coalition, along with many other union groups such as the New York State Iron Workers District Council and the Connecticut State Building Trades and Construction Council. Also listed on the website as a coalition member is the American Fuel & Petrochemical Manufacturers (AFPM). The AFPM is yet another coalition, of big oil companies such as ExxonMobil, Citgo and Koch Industries, among others
[Original article at  http://www.rifuture.org/union-industry-astroturf-ri.html ]
---
The world's "greenest bitumen refinery" in BC
Dave Coles, the former president of the Communications, Energy and Paperworkers Union is now the Vice President, Partnerships and Sustainability at 
Pacific Future Energy
:
Pacific Future Energy filed with federal and provincial regulators on June 17, 2016 its updated formal "Project Description," which provides the public with information about its plans to build the world's greenest bitumen refinery in northwest BC.
 
From their web page
http://www.pacificfutureenergy.com/ : 
"BRITISH COLUMBIA IS HOME TO ONE OF THE MOST SPECTACULAR COASTLINES ON THE PLANET.
PACIFIC FUTURE ENERGY HAS ASSEMBLED A GLOBAL TEAM TO BUILD A REFINERY IN BRITISH COLUMBIA'S NORTHWEST THAT WILL PROTECT CANADA'S WEST COAST FROM THE THREAT OF A HEAVY OIL OR BITUMEN SPILL.
PACIFIC FUTURE ENERGY IS COMMITTED TO BUILD AND OPERATE THE WORLD'S GREENEST BITUMEN REFINERY ON BRITISH COLUMBIA'S NORTH COAST. WHILE WE BELIEVE IT'S IN CANADA'S NATIONAL STRATEGIC INTEREST TO GAIN ACCESS TO INTERNATIONAL MARKETS FOR ALBERTA'S OIL, ESPECIALLY THE FAST-GROWING ASIAN MARKET, THE COMPANY BELIEVES IT SHOULDN'T BE DONE AT THE SACRIFICE OF BC'S COAST OR BROADER ENVIRONMENT, AND MUST BE DONE IN FULL PARTNERSHIP WITH FIRST NATIONS"
The company's Advisory Board listed on their web page includes Stockwell Day, former Conservative cabinate minister, Chief Robert Louis of the Westbank First Nation, and Ovide Mercredi, former National Chief for the Assembly of First Nations. 
Shawn A-in-chut Atleo, former National Chief for the Assembly of First Nations is on the Board of Directors, as are Stockwell Day and Mark Marissen, former husband of BC Premier Christy Clark.
Atleo and Marrisen also hold positions on the management team, as does Michael Bonshor, a First Nations business leader. Dave Coles, the Vice-President of Partnerships and Sustainability, is described as follows:
"Dave Coles is President Emeritus and a founding member of Unifor, Canada's newest and largest private sector trade union. Mr. Coles was previously the longest serving President of the Canadian Communications, Energy and Paperworkers union (CEP), which represented 30,000 energy workers who worked in the bitumen sands and many refineries in Alberta. Mr. Coles has fought for many environmental causes, and led campaigns for Canada's natural resources to be processed in Canada. He has also spoken internationally on energy, environmental, and labour issues."
See the nice images to promote some of the worst-emitting 'oil' on earth: http://www.pacificfutureenergy.com/team/
---