EV Battery Minerals Under Huge Ontario Carbon Sink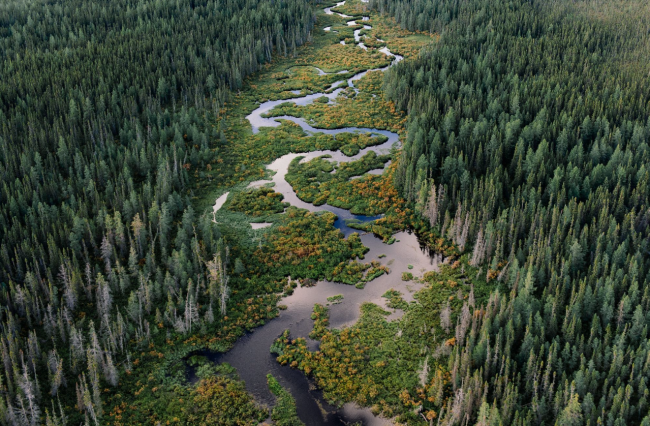 Sept. 28, 2023
$67 Billion of Rare Minerals Is Buried Under One of the World's Biggest Carbon Sinks
A fight is brewing in Canada about how, or whether, to dig out materials essential for EV batteries that lie deep beneath vast peat bogs
The pace of the global transition to electric vehicles depends on the future of a remote region in Canada known as the Ring of Fire.
Located underneath a distant, swampy expanse of spruce forests and meandering rivers in Northern Ontario that is cut off from major roads, the Ring of Fire is seen by industry and government officials as one of the world's most important untapped sources of nickel, copper and cobalt—metals essential for making the batteries that power electric vehicles.
But the precious commodities are buried under a vast ecosystem of peat bogs, known by local groups as "the breathing lands," that hold more carbon per square foot than even the Amazon rainforest. Digging them up could trigger the release of more greenhouse gas than Canada emits in one year, turning one of the earth's biggest carbon sinks into a major source of emissions, say climate advocates.
A debate over how, or whether, to tap in to this mother lode, located more than 700 miles Northwest of Toronto, has touched off a fight between mining companies, climate advocates, and indigenous groups as demand for cleaner energy and electric vehicles has surged worldwide.
"If I have to hop on a bulldozer myself, we're going to start building roads to the Ring of Fire," said Doug Ford, the leader of the province of Ontario, which recently signed deals with automakers Volkswagen and Stellantis to build battery-making factories in the province.
Opponents warn that disturbing the area could have far-reaching consequences.
The interconnected wetlands of the Hudson Bay Lowlands cover almost as much territory as Germany.
"We are threatening to destroy so many forests and peat lands that eat the carbon out of the atmosphere. The impact could be catastrophic," said Kate Kempton, a lawyer representing indigenous groups that are suing the Ontario government to halt development in Northern Ontario, including in the Ring of Fire, unless the groups agree to it. Canada has signed onto the United Nations declaration which says the country must consult with and get "free prior and informed consent" from indigenous peoples for decisions and projects that affect their communities.
The Ring of Fire was formed almost three billion years ago, a 1,900- square-mile area larger than the state of Rhode Island. Shifting tectonic plates cracked the continent and mineral-rich magma oozed up from the Earth's core. Later, a retreating ice sheet left sodden, boggy terrain that covers what metal-industry analysts have estimated to be tens of billions of dollars worth of minerals.
In 2007, prospectors discovered rich veins of nickel, copper and chromite, a mineral used to make stainless steel that is found mainly in South Africa. Mining marketers named the area after the famous Johnny Cash song, because the mineral deposits in the area showed up as a red crescent in magnetic images.
The find sparked a rush by North American mining companies such as Toronto-based Noront Resources and Cleveland, Ohio-based Cleveland-Cliffs, enticed by what the mining industry hailed as an unusually rich mineral bounty. 
More than 26,000 claims to mine have been made by those who have set their sights on Ontario's Ring of Fire, nearly 2,000 square miles of boggy peatland.
The companies are after minerals in a band of ancient volcanic rock under the water-logged surface. Surveys have found veins of minerals used in batteries, such as nickel and cobalt, as well as precious metals like gold and platinum.
The mines would require new all-season access roads. The Webequie and Marten Falls First Nations back the road projects. Critics contend the road construction and subsequent traffic will negatively affect the ecosystem.
Mines in the area also risk disturbing carbon stored over thousands of years in the world's second-largest peatland. The Hudson Bay Lowlands holds more carbon per square foot than the Amazon rainforest, according to Wildlife Conservation Society Canada.
Development stagnated, however, due to the high cost of developing the region, and because the area was inaccessible by road. Frustrated by the slow pace, particularly of the biggest nickel deposit, called Eagle's Nest, Australian billionaire Andrew Forrest bought a stake in Noront through his mining company, Wyloo Metals. He beat out the world's biggest miner by market value, BHP Group, in a bidding war and acquired Noront in a deal that closed in 2022 for $500 million—a 358% premium.
The Eagle's Nest deposit is "the most valuable nickel deposit, undeveloped, in the world," said Forrest in a recent interview. "We're not going to be able to switch off fossil fuels, which will and are destroying the planet, unless we have abundant supplies of nickel."
Wyloo estimates that, along with the nickel that it owns in the Ring of Fire, the deposits of platinum, palladium, copper and chromite could be worth $67 billion.
As EV production has increased, demand has surged for such metals, which are key components in manufacturing electric vehicles and military equipment. Nickel, especially, has been in great demand: Last year, global nickel use totaled 3.16 million metric tons, according to Benchmark Mineral Intelligence, a research firm. By 2035, the amount of nickel needed to keep up with global demand will almost double to 6.20 million tons.
Projects like the Ring of Fire represent a new era for the mining industry. Long considered a dirty and often unfortunate legacy of the industrial economy, mining has taken on a green sheen. Extraction is an essential component of the global movement toward electrification, analysts say.
The U.S. military is encouraging Wyloo's Canadian subsidiary to apply for a grant program that supports a U.S. effort to build a supply chain for the materials needed to make batteries and military equipment, and loosen China's grip on the market, according to people familiar with the discussions. The U.S. military is trying to build up a domestic supply of critical minerals to ensure the U.S. isn't beholden to geopolitical rivals such as China and Russia.
"Canada could be the world's number one supplier of critical minerals if they get it right now," said Simon Moores, chief executive of Benchmark Mineral Intelligence.
The Eagle's Nest deposit is located under an 840-foot-long pond named Hockey Pond. Wyloo geologists estimate there could be 20 million tons of reserves of ore from which the nickel and other metals will be refined.
To reach it, engineers plan to tunnel 5,300 feet beneath the spongy peat bog, as deep as more than three Empire State Buildings. The company has proposed using wind and solar energy to power operations, using electric vehicles in the mine to reduce emissions, and burying its tailings—the industrial waste from mining—to keep the above-ground scale of the mine as small as possible. 
One company executive described the mine's proposed footprint relative to the surrounding wilderness as "a pinprick on the back of an elephant."
But first, the company needs a road to link the exploration camp with the nearest airport, 50 miles to the northwest, and the provincial highway, 180 miles to the south. Currently, workers are flown to Eagle's Nest by helicopter over the green and yellow expanse of the Hudson Bay Lowlands. This stretch of virtually undisturbed wetlands and poplar, balsam fir and spruce forests wraps around the southern shores of Hudson Bay and James Bay. The area spans 123,000 square miles, almost as much territory as Germany. 
Currently, heavy work equipment needed for exploration and mining work can only be trucked in over ice roads in the winter or flown in when a cargo plane is able to land on the iced-over lake next to the exploration camp.  
Wyloo has said such logistical gymnastics will be unfeasible when the mine starts producing ore.
The company has found allies in Marten Falls First Nation and Webequie First Nation, two indigenous communities located closest to Eagle's Nest. They have been pushing for 300 miles of all-season road that would connect the mine to their communities and the provincial highway system that crisscrosses Ontario.
"We want to be a partner in the economy. We want to grow our community," said Chief Bruce Achneepineskum, leader of Marten Falls, which is located 75 miles southeast of Eagle's Nest.
His community of 300 people can only be reached by air for most of the year. The inaccessibility makes reserve life very expensive. Gas at Marten Falls costs more than $10 a gallon. At the only grocery store in Webequie, located almost 50 miles northwest of Eagle's Nest, two tomatoes cost $4.30, and a single avocado costs $4.38. 
Webequie's chief, Cornelius Wabasse, remembers how his father used to travel on a dog sled. Now, residents drive pickup trucks around their island community and use motorboats to navigate the waters of nearby Winisk Lake. 
A road to the community is inevitable, he said. It means more progress, which will bring easier access to goods and the mine will bring jobs. "We've gone too far into the future. We can't ever go back."
But a few other indigenous communities, and major Canadian environmental groups, have warned that damaging the area's pristine ecology, especially its network of peat bogs, may only add to the global carbon emissions that electric vehicles are trying to curb.
"If you disturb the peat, if you dry it up, the damage could be irreparable in our lifetimes," said Lorna Harris, a director at Wildlife Conservation Society Canada. "We should leave it alone."
According to the road proposals filed with government agencies, a 100-mile section of the road could require 31 culverts to ensure that water keeps flowing between sections of the swamp the road cuts across. Road builders will also need to dig out quarries to provide gravel for construction.
Peat is made of partially decomposed vegetation that accumulated over thousands of years, trapping carbon in the swamp. Damaging the area could release 1.6 billion tons of carbon dioxide into the atmosphere, more than double the 730 million tons Canada as a whole released in 2019, said Harris.
Canada's Environment Minister Steven Guilbeault said any potential development in the Ring of Fire region needs the support and input of indigenous communities. The minister's office said it anticipates an upcoming regional assessment will "focus on peatlands and other important environmental elements."
To address concerns, engineers will largely keep off the peat and build atop an esker, a hard sand and gravel ridge that was left behind by the retreating ice millions of years ago, said Qasim Saddique, a consultant advising Marten Falls on the road. 
Where the esker isn't available, the engineers plan on building atop a foundation of so-called geogrid cells, which are like synthetic mats placed on the bog, limiting the need to dig into the peat, he said.
Neskantaga First Nation, located 82 miles southwest of Eagle's Nest is against development and has sued the Ontario government to halt activity in the region unless the community consents. Community leaders say they are also vexed that the neighboring Marten Falls community hasn't properly consulted with them over the road.
Neskantaga's reserve on the shores of sturgeon-rich Attawapiskat Lake is upriver from the Eagle's Nest deposit and miles away from the proposed road. But people there are worried about industrial accidents and long-term damage to the waterways, the caribou and the migratory birds that use the lowlands, said Wayne Moonias, a former chief.
"Yes, jobs will come. Yes, development will come. But our quality of life also includes the preservation of our way of life," said Moonias, who said the community depends on hunting and fishing for food and income.
Moonias was escorted out of the provincial legislature in Toronto last March after he stood up in the middle of a session and yelled, "You're not going to take our sturgeon! You're not going to take our moose! No Ring of Fire!"
Wyloo's owner, Forrest, vows that the mine at Eagle's Nest will have a limited environmental footprint. He dismissed concerns about accidents, even though his iron-ore company, Fortescue Metals Group, was cited last year by regulators in the state of Western Australia for disturbing land outside approved areas, improperly building retaining walls, failing to properly bury hazardous material and not cleaning up oil spills quickly enough at its sites. 
A Wyloo spokeswoman said regulators considered the breaches to be minor and the company fixed the problems without incurring any fines. 
Forrest says that mining nickel in Canada will be more climate friendly than extraction in regions such as Indonesia, where comparatively low-grade nickel is mined using energy from coal-fired plants. 
Those who object to the development are guilty of short-term thinking that ignores the long-term impact of climate change, he argues. 
"They're basically saying, 'I'm all right Jack. The rest of you generations and everyone coming after me, they can get stuffed,'" Forrest said.
People at Aroland First Nation, located at the proposed starting point of the road, 180 miles south of the Ring of Fire deposit, aren't convinced. Mark Bell, an Aroland councillor, says residents already contend with trucks going back and forth to a nearby paper mill, leaving thick coatings of dust on nearby trees. More heavy truck traffic from Ring of Fire will damage the lakes and hunting grounds he has visited since he was a boy, he said.
"These areas are really important to us," he said. "I'm worried that in 10 years, I won't be able to use this land. It will just be something I drive past."
[Top photo: Flying over the Hudson Bay Lowlands to the Ring of Fire in Northern Ontario.]